Find the right shaving brush, that is an art. While many swear by a shaving brush made of badger hair, there are also shaving brushes made of synthetic hair, real hair or shaving brushes with pig bristle. Even vegan shaving brushes are offered. And each shaving brush has its advantages and disadvantages.
Different shaving brush
Shaving brush from badger hair
Badger hair shaving brushes are very popular, because the shaving foam from shaving soap or shaving gel can be whipped with a badger hair shaving brush excellent. This is because the bristles of a badger hair shaving brush does not get soaked with water. Badger hair shaving brushes are available in different qualities and usually come from China, where badgers are kept in farms.
Shaving brush silver tip, silver pluck or silvertip
A shaving brush silver tip, silver pluck or silvertip belongs to the luxury shaving brushes in the shaving brush test. Silvertip comes from the light hairs of winter fur on the belly or back of the badger. The individual hairs are silver-gray to white at the tips. The middle part is gray-black and the base is beige. Silver tip is considered skin-friendly and is therefore suitable for sensitive skin. For pet lovers, synthetic silver tip or silvertip is an equivalent alternative. Developed in Germany, the synthetic fiber for shaving brushes looks similar to the real silver tip and is more robust and durable in its properties than the natural hair. Faux badger hair can be used to whip up creamy lather and the synthetic bristles are quick drying and impervious to shaving soap. The care of the shaving brush is easier than with real badger hair.
Stock hair badger shaving brush
Another badger hair shaving brush consists of stock hair from the underfur of the badger. Because the badger wears this fur all year round and it is always available unlike silver tip, a shaving brush Stockhaar, Pure Badger or Grey Badger is cheaper than a Silberspitz shaving brush. Stock hair has a uniform gray-brown to gray-black color. It is not as fine at the tips as silver tip and is excellent for more robust skin.
Pluck hair badger shaving brush
Plucked hair is a few shades finer than stick hair. Plucked hair is obtained from the dorsal fur of the badger. The color is light brown to beige with distinct darker stripes. With its fine tips plucked hair is also suitable for sensitive skin.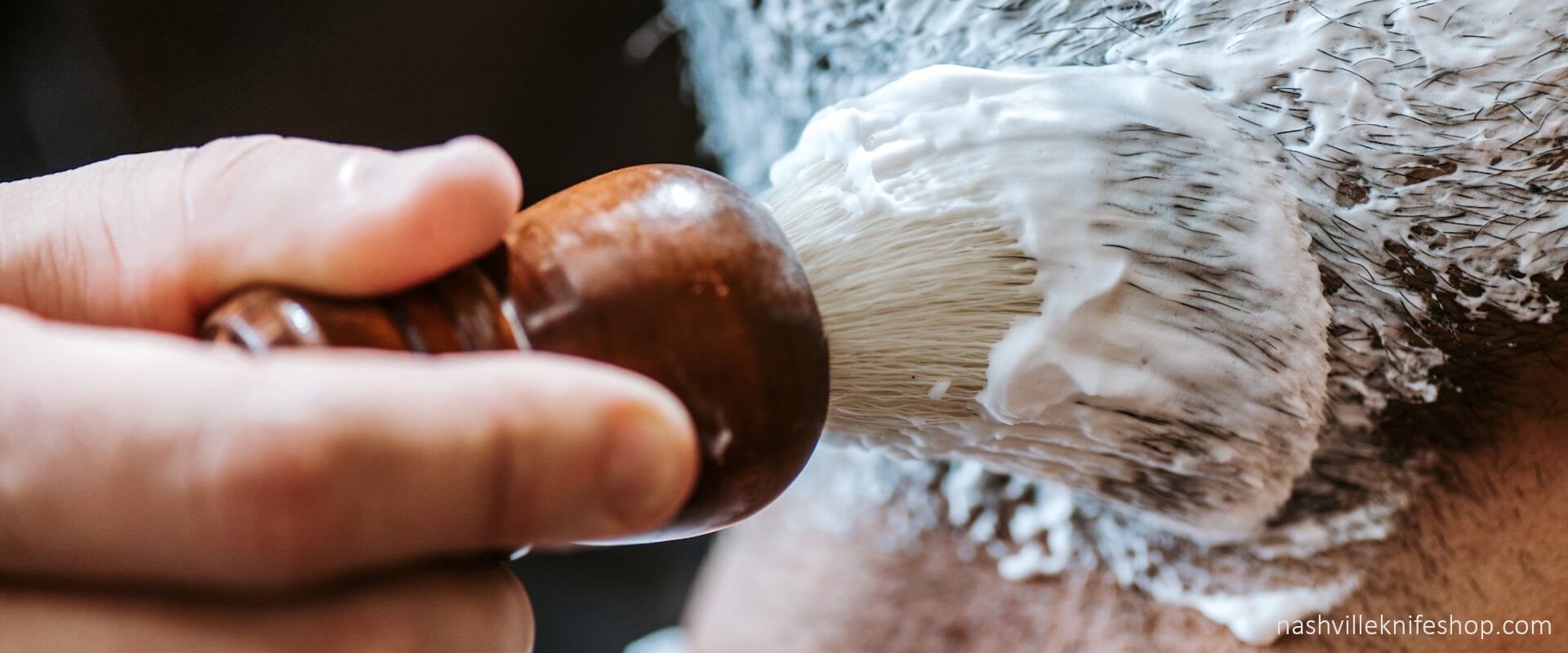 Shaving brush from pig bristle
In the production of shaving brushes made of pig bristles are used bristles from the wild boar. Due to their hardness, the bristles massage the skin and make the beard hairs stand up. Lathering shaving soap is a bit more complex because bristles can't hold water as well. The pig bristle becomes softer over time and especially the low price can convince beginners in wet shaving.
The horsehair shaving brush
Horsehair is an alternative to badger hair, because the brush hairs are softer than shaving brush pig bristle. However, the care of a horsehair shaving brush is more complex. If the brush hairs are not sufficiently cleaned, the bristles of the shaving brush can fail prematurely.
Synthetic hair shaving brush
Synthetic hair shaving brushes are an alternative to a human hair shaving brush. No animal has to suffer for this. The synthetic fibers feel identical on the skin and shaving cream can be whipped up just as well. Vegan shaving brushes made from synthetic fibers are easier to care for and last longer. The production can be handmade in a manufactory as with a badger hair shaving brush. The term Black Fibre or Tuxedo Fibre always refers to shaving brushes made of synthetic hair. Who is looking for an alternative to badger hair, is very well advised with a shaving brush synthetic with vegan brush hair in high quality.
What shaving brush handle to choose?
A shaving brush handle must lie well in the hand so that the shaving foam can be whipped on more easily. As a shaving brush handle materials such as wood, metal or plastic come into question. Personal taste plays a role in the selection of the material, as well as the shape of the handle: straight, conical, bulbous or slim. Note that handles made of metal and any other heavy material could possibly damage a shaving bowl made of antique ceramics or porcelain. Most often, an ergonomic handle shape that fits well in the hand is preferred for the best shaving brushes. Very tasteful is a shaving brush with handle made of olive wood and other woods with beautiful grain. But also a handle in the colors of the favorite football team or with a logo in the middle made of synthetic resin finds its fans.
Do I need a shaving brush set?
Beginners in wet shaving acquire with a shaving brush set several components that are indispensable for shaving. Especially the uniform appearance in the set has its charms. In addition, the shaving brush set is always a visual highlight in the bathroom.
Shaving brush with shell: The shaving brush set includes a soap dish in which the shaving foam is whipped. If a stand is integrated, the shaving brush can also be stored space-saving.
Shaving brush with stand: The shaving brush stand has a holder for the shaving brush and a holder for the razor for wet shaving. A bowl can, but does not have to belong to this shaving brush set. A modern shaving brush stand is nowadays made of chromed stainless steel. In the past, glass or acrylic was used.
Other shaving brush sets include blades, shaving soap or a shaving brush and shaving soap in a jar. Shaving brush holder homemade consist of thick aluminum wire that can be bent or you make a shaving brush stand DIY from wood, similar to a drill holder, so that the shaving brush can be stored hanging and the hairs do not lie on.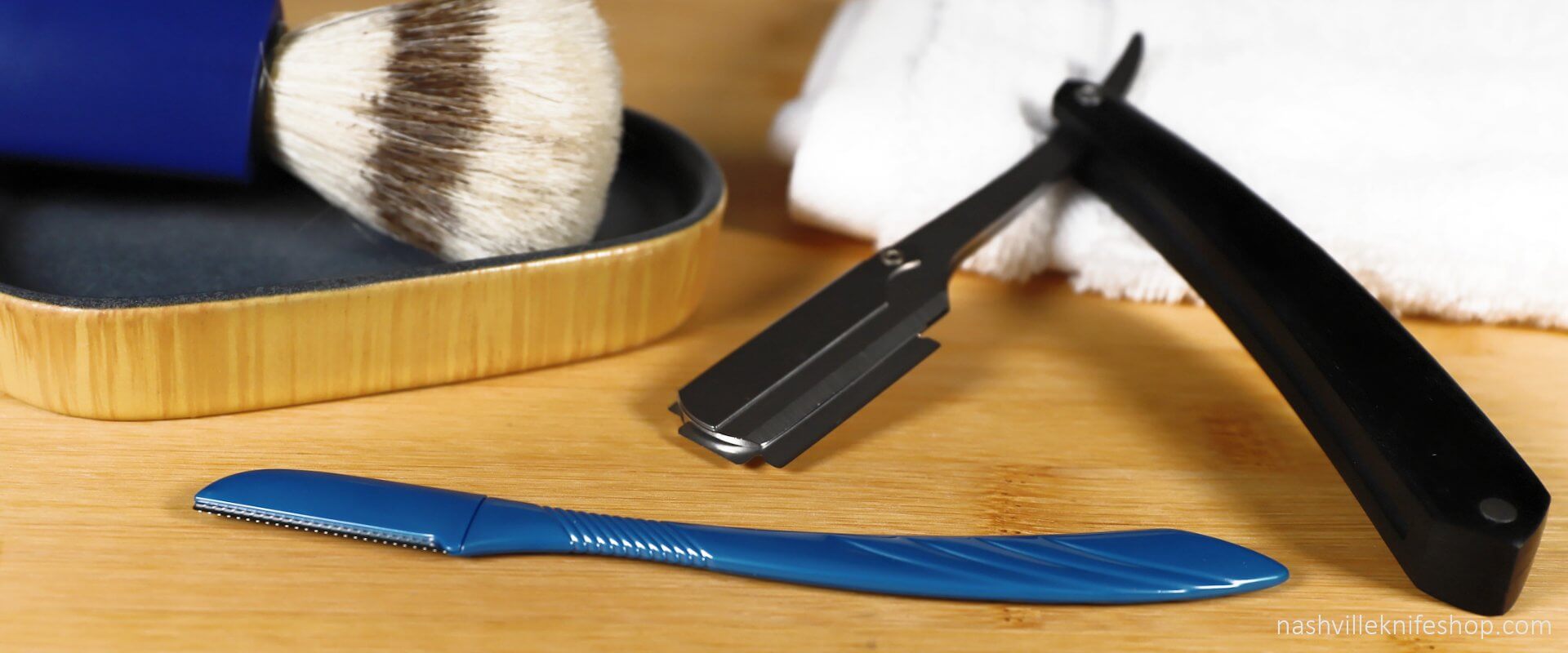 Shaving brush: tips for care
After wet shaving, rinse the shaving brush with warm water until no shaving foam clouds the water. Shake excess water from the brush hairs. After that, the brush must air dry. Preferably with the bristles down. Here a shaving brush stand is suitable, in which the shaving brush is hung and the brush hairs can dry down. For storage in the bathroom cabinet, the brush hairs must be dry so that no mold forms. A luxury shaving brush should never be dried with a hair dryer or on a heater.
How can I get an old shaving brush back into shape?
A shaving brush wears out over time or the bristles are no longer supple or the shaving brush begins to smell. Then wash the shaving brush with a mild shampoo and beat this with the shaving brush to foam. The shampoo should be massaged into the base of the shaving brush, as it can smooth out frayed bristles. Then rinse the brush well. Hard bristles become softer again with a treatment with a little conditioner.
Finding the best shaving brush
A shaving brush is a good shaving brush if the bristles become softer over time, but still retain their shape. Lathering should feel good and there should be no irritation after shaving. A slight loss of hair on the brush is not a drama after purchase. However, if the hair loss increases or about brush hairs with glue at the hair end fall out, the shaving brush should be replaced. A luxury shaving brush from Bologna is handmade from badger hair or synthetic hair since 1931. Buyers are highly satisfied with the quality. Shaving brushes differ in shape into fan-shaped and pear-shaped shaving brushes. The former cover a large area. The latter, with their crown becoming finer towards the tip, are suitable for lathering contours. Travel shaving brushes are smaller than normal shaving brushes with 15-18 mm. They also have a cap for transport. The cap may have air holes for air exchange. A standard shaving brush is 20 to 22 mm in size. An extra large shaving brush has the dimensions of 24-26 mm. A shaving brush 28 mm is used exclusively for decorative purposes.
Badger hair shaving brush – the test
There is no shaving brush test from Stiftung Warentest. You must choose between a shaving brush made of real hair such as horse or badger or a shaving brush made of synthetic hair. Classic shaving brushes use badger hair. Modern vegan shaving brushes use synthetic fibers, which also trump animal hair in properties, dry faster or are more durable. For shaving brushes made of badger hair, silver tip is the high-end quality. Shaving brushes made of horse hair or pig bristle are inferior to shaving brushes made of stock hair. Beginners do with synthetic hair with its reinforced center the easiest. Luxury shaving brushes and high-quality shaving brushes are best found in a manufactory. There a shaving brush costs from 45 euros upwards. Medium-priced shaving brush badger hair cost between 20 and 40 euros. Under this price range you get the cheap shaving brushes.